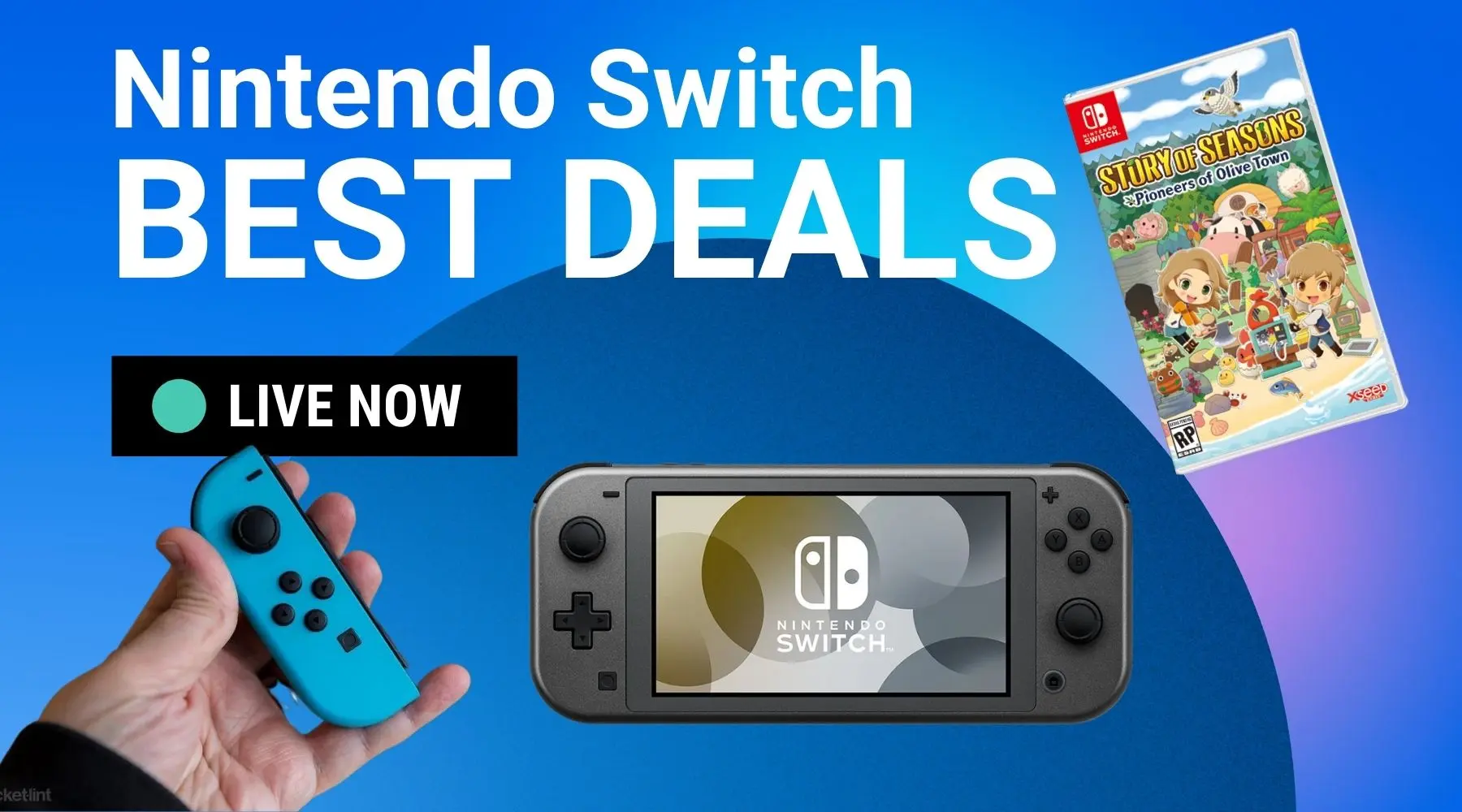 Black Friday presale: the best Nintendo Switch deals
Nintendo's Black Friday early bird deals include $ 50 off Switch Lite consoles and 50% off select Nintendo Switch games.
Looking for the best deals online before the Black Friday sale craze kicks in? Now is your chance to win discounted Nintendo Switch products before they all sell out.
Best Nintendo Switch Black Friday Deals (So Far)
$ 50 off Nintendo Switch Lite: The Nintendo Switch Lite is the portable game console from the Japanese gaming giant Nintendo. The system has built-in controllers and access to the entire Nintendo Switch game library through the eShop and physical cartridges. Save $ 50 on Nintendo's second best-selling console of all time.

Buy for $ 279.00 (was $ 329.95)

---

$ 20 off Nintendo Switch Joy-Con controller pairs: Get a new set of Joy-Cons for under $ 100 with Amazon. These Joy-Cons are controllers that can be used with both the OLED version and the basic version of the Nintendo Switch, they are available in a variety of bright color combinations and include a Joy-Con strap for added comfort. and security.

Buy for $ 99 (was $ 119.95)

---

49% off Fenyx Rising Immortals: Save almost 50% on this great adventure game from Ubisoft. Embark on an epic quest to restore the ancient Greek gods and save the world from an evil curse in Ubisoft's Immortals Fenyx Rising on Nintendo Switch.

Buy for $ 24.98 (was $ 49.95)

---

15% Discount on Metroid Dread: The long-awaited Metroid Dread game is finally here. The hunter has become the hunted in Metroid Dread, the latest in the Metroid franchise, with the bounty hunter taking on his most dangerous foes yet in this thrilling new adventure.

Buy for $ 68 (was $ 79.95)

---

41% off Story of Seasons: Pioneers of Olive Town: Find new life with Story of Seasons on Nintendo Switch. Settle into the simple life of farming in Story of Seasons: Pioneers of Olive Town, where players let go of the stress of the city and rebuild their grandfather's old farm in the rustic town of Olive Town.

Buy for $ 47.00 (was $ 79.95)

---

$ 20.95 off The Legend of Zelda: Breath of the Wild: Link returns in a whole new kind of adventure in The Legend of Zelda: Breath of the Wild, featuring open-world exploration and new gameplay elements never before seen in the Zelda franchise.

Buy for $ 69 (was $ 89.95)

---

$ 20.95 off Super Smash Bros: Ultimate: Get the latest installment in the Smash Bros. series for just $ 69. Super Smash Bros; Ultimate is the final installment of the classic fighting game, pitting famous characters from Nintendo and other video games against each other in the ultimate showdown.

Buy for $ 69 (was $ 89.95)

---

Pokemon Brilliant Diamond and Pokemon Shining Pearl Dual Pack: Get a double pack for much less than the cost of two on Amazon. This double pack includes both the 2021 remakes of Pokemon Diamond and Pearl, located in the Sinnoh region where players embark on an adventure-filled journey alongside their own Pokemon.

Buy for $ 148

---

39% off Mario + The Battle for Rabbids Kingdom: Enjoy this once in a lifetime Nintendo Switch mashup. The famous plumber who saves the kingdom from Nintendo, Mario has teamed up with Ubisoft's Raving Rabbids to save the once peaceful world from an all-new threat never seen before.

Buy for $ 36 (was $ 59.95)

---

49% off RIG 100 HC gaming headsets: Chat online with your gaming friends with this comfortable headset. The RIG 100 HC Gaming Headset is the perfect headset for chatting in online games on the Nintendo Switch thanks to the 40mm driver that delivers crystal clear sound.

Buy for $ 24.98 (was $ 49.95)

---

49% OFF STEALTH C6-100 Stereo Gaming Headset: Enjoy high quality sound at almost half the price. The STEALTH C6-100 Stereo Gaming Headset is a powerful headset with padding over the ears and a flexible mic for online gaming in comfort and high quality sound.

Buy for $ 29.98 (was $ 59.95)

---

15% Discount on Mario Party Superstars: Play the latest Nintendo board game for the Switch in a snap. Compete against your friends in the latest installment of the Mario Party series, with over 100 classic mini-games revisiting previous games and an all-new online multiplayer mode for remote play with friends.

But for $ 68 (it was $ 79.95)

---

Save $ 11.95 on Animal Crossing New Horizons: Escape to peaceful island living with Animal Crossing: New Horizons, where life is taken one day at a time. Go fishing, socialize with your neighbors, decorate your island however you like with this calming bestseller on Nintendo Switch.

Buy for $ 68 (was $ 79.95)

---

34% off NBA 2K22: Be in the NBA like never before with NBA 2K22. Get in the game with NBA 2K22, which allows players to experience realistic pro-level basketball with their favorite players and teams in high-stakes competitions.

Buy for $ 59 (was $ 89.95)

---

15% off Super Mario 3D Stars: Buy three games for the price of one. Super Mario 3D All-Stars is a combo pack of three classic Nintendo Mario 3D games, including Super Mario 64, Super Mario Sunshine, and Super Mario Galaxy.

Buy for $ 68 (was $ 79.95)
---
Black Friday is a 24 hour event, to be held this year on November 26. The mega sales event is closely followed by Cyber ​​Monday, which falls on 29 november and see even more great deals offered by online stores.
---