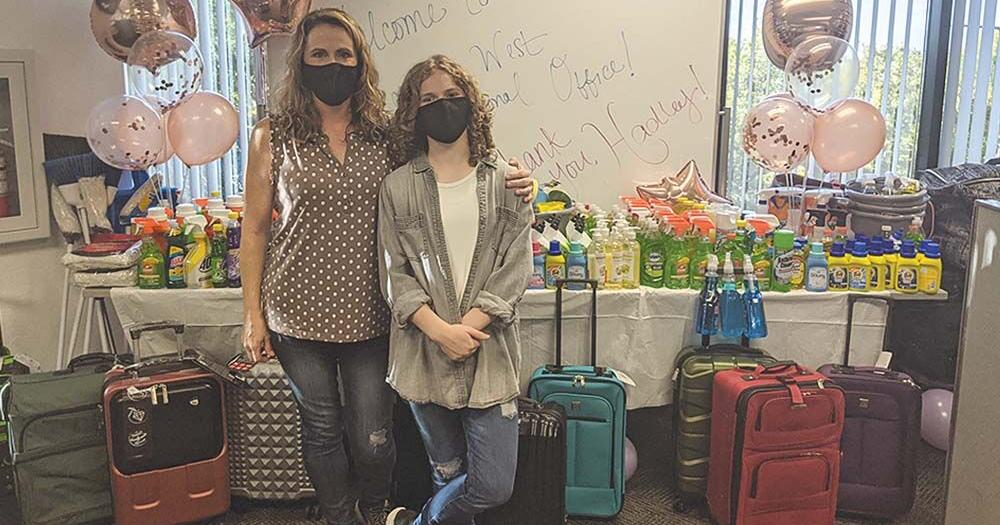 12-year-old girl donates hundreds of items to foster children | Online features
Hadley Gray, 12, from the area, has collected and donated over 250 essential household items to the Maricopa West regional office of the Department of Child Safety in Glendale to help young adults exit the foster care system of 'Home.
Hadley was recently named "Agent of Change 2021" by the DCS West regional office. According to Andrew Knight, community information manager at DCS, this was the first time the award had been presented.
"It was actually inspired by Hadley," Knight said. "It's not the one we've awarded before, but we here in the Maricopa West area were so touched by her efforts that we were compelled to give this award especially for her."
Hadley collected cleaning supplies to donate to young adults who are no longer in foster care and have limited resources for things most adults take for granted. Knight said ideally children are reunited with their parents or placed in a permanent home through adoption or guardianship, but that doesn't always happen. Some end up staying in the system until they get old, at which point they are thrown out into the real world.
"They are automatically enrolled in the young adult program as they approach the age of 18, and then they can opt out if they wish," Knight said.
"We're expected to give them a case manager who'll kind of walk them through the process of being an adult through the first time around. So things like learning to drive, if it hasn't been done before, learning to budget or balance a bank account, that sort of thing. And we will work with these teens up to the age of 21 if they stay with the program.
This isn't the first time that Hadley has helped DCS, and certainly not the first time she's collecting donations for those in need. She first got involved by helping her mother, Angella, organize 5km races for charity. The first fundraiser that Hadley did entirely on her own was on her ninth birthday. Instead of receiving gifts, she asked friends and family to donate items to pet and homeless shelters. She didn't stop there.
"For my 11th birthday, I picked up luggage for the foster kids because they were carrying trash bags instead of luggage," Hadley said. "So I wanted to bring them some luggage, and I also donated hygiene items. "
Hadley said she was inspired by comedian / actress Tiffany Haddish, who collected luggage after seeing children in the system use trash bags to carry their things from house to house. She said her efforts continued after her last donation and now each child in this foster care division has received their own baggage.
Hadley said the process is actually quite straightforward and the community is always coming together to support the cause.
"I pitch the idea in front of my parents, and every time they say, 'Yeah, let's see if we can do it,'" she said.
"We'll do posters, flyers and see if my school wants to get involved. Sometimes they do, and we can hang flyers around my school, "she explained.
"Then we also publish online. We will set a deadline to stop accepting donations, and at that time people will bring us donations, bring the school donations or bring money with which we can buy the items.
Since she started, Hadley and her mother said she has donated thousands of items. However, Hadley doesn't think what she's doing is particularly special, and she thinks everyone should.
"So many people or so many places don't have the funds to keep doing what they need to do, and so many people don't have certain items that they need," she said. "And I feel like I have to do something about it. I think a lot of people should be doing this. Why am I one of the only kids doing this? It's so easy to put stuff together for the people who need it.
DCS contacted Hadley to see if she could help collect household items for their last drive. Knight said those in the DCS West regional office were blown away by Hadley, what she accomplished and her spirit of giving.
"Of course there are a whole bunch of nonprofits across the valley supporting our teens and foster children as they work their way through the system. But I will say that having a 12 year old does that is so inspiring for us. It's not something I've seen before, and I've been working at the ministry since 2012, "he said.